Assisted Living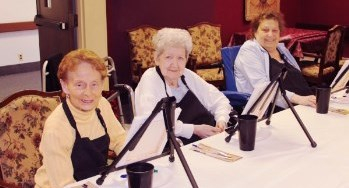 Assisted Living is for those who are able to get around on their own but need help with some activities of daily living, or prefer the convenience of having their meals in a family-style setting and having nursing staff on call.
Are you concerned about the safety of your loved one due to a recent fall or accident? Are cooking and chores a bit too much effort? Do they seem lonely or depressed?
Now may be the time to talk with your loved one about your concerns and if Assisted Living may offer the solution. Assisted Living at St Luke Lutheran Community can provide the peace of mind you are looking for. With tailored services to meet each individual's needs, one can also expect 24-hour staff, medication management, planned social activities, transportation to planned activities and much more.
St. Luke Lutheran Community offers Assisting Living services at all three of our campuses:
North Canton features 33 suites in Muirfield Village (a participant in the Medicaid waiver program) and 19 suites in Dogwood Commons. We focus on independence and socialization.
Minerva features a 30-suite campus with state-of-the-art security and a convenient and charming Main Street feel, nestled on 54 acres of calming countryside.
Portage Lakes features 15 suites with beautiful views of South Turkeyfoot Lake.
Our Assisted Living services include:
breakfast, lunch, and dinner served daily in the dining room (meals are prepared to meet your individual diet needs and preferences)
minimal assistance with activities of daily living
administration of medication
socialization through planned activities and outings
laundry and housekeeping services
Rates do not include physician care, medication costs, diagnostic tests, laboratory fees or hospital charges.
Schedule your tour today!
St. Luke - North Canton
Valerie LeFever at (330) 499-8341 or Jamie Tabler at (330) 499-8341
St. Luke - Minerva
Charlotte Stull at (330) 868-5600
St. Luke - Portage Lakes
Angela Nickey at (330) 644-3914
St. Luke Lutheran Community is a member of the American Association of Homes and Services for the Aging (AAHSA), Leading Age Ohio, and Lutheran Services in America (LSA).

Guidelines for acceptance and participation in St. Luke Lutheran Community's programs are the same for everyone without regard for race, color, religion, national origin, age, sex, sexual orientation, or handicap.