HIRING EVENT - OCTOBER 25, 2023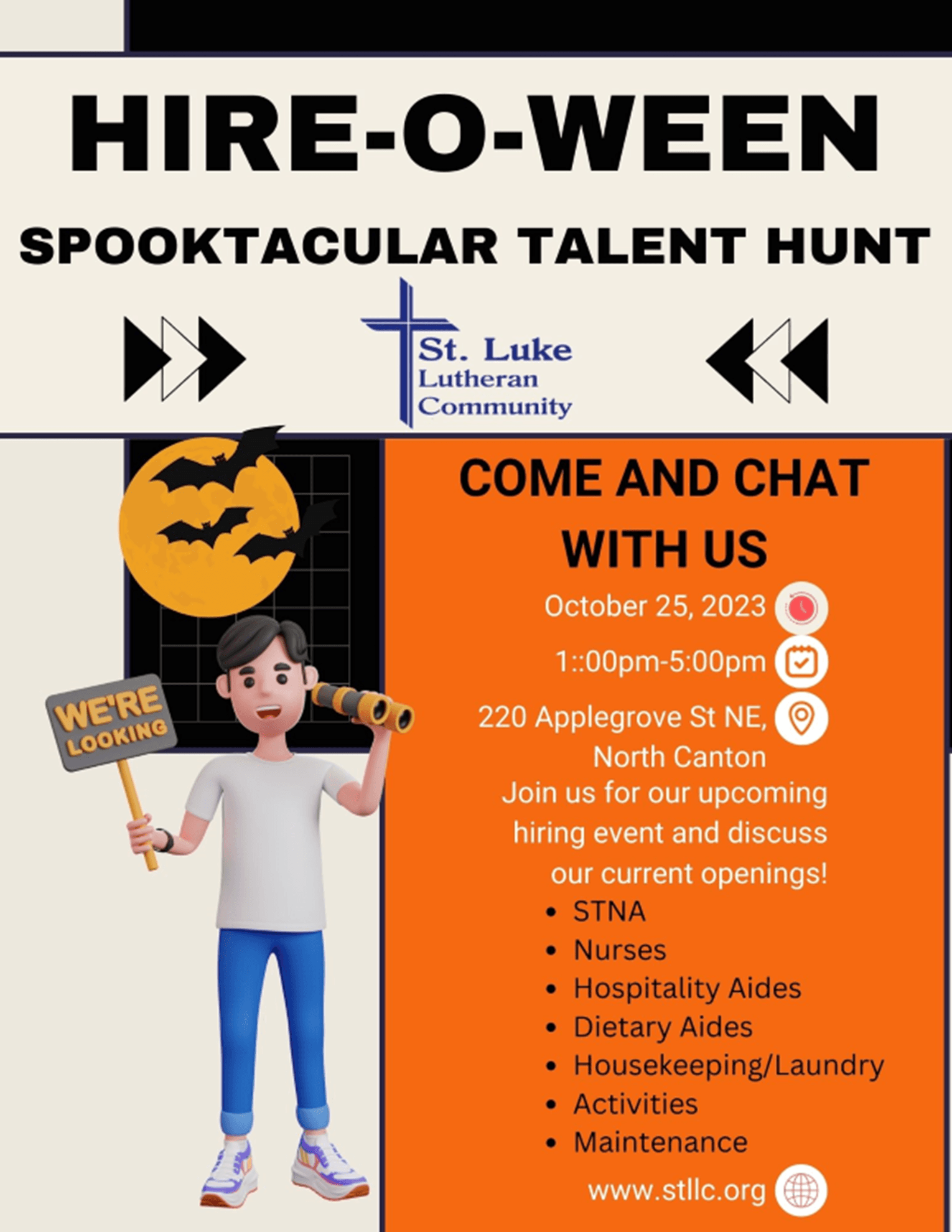 More Than Just A Job
It takes an entire team of caring individuals to maintain and fulfill the mission of St. Luke Lutheran Community.  The people who provide care and services to our residents are an essential part of our mission. St. Luke believes our employees are exceptional individuals who are committed to continuing our tradition of excellence and compassion in Senior Care. 
At St. Luke we provide career opportunities to build a great future and provide our employees with benefits that work for them.
Click Here To View Job Opportunities
We Offer:
Competitive Pay Structure

Flexible AND Set Schedules

Paid Holidays

Attendance Bonus

Generous PTO Program

Every Other Weekend and Holiday Off

Comprehensive Group Medical Insurance (dental, vision and prescription benefits)

403(b) Savings Program with excellent employer-matching dollars.

Referral Program
St. Luke is an Equal Opportunity Employer.
BENEFITS
Group Medical Benefits
We know that employees are concerned about medical benefits. Health Care costs are rising and employers are cutting back on the medical benefits that they offer to their employees. We believe that employees deserve quality medical coverage. Medical (including prescription) coverage is available and all premium charges are done through payroll deduction on a pre-tax basis. Dental and vision benefits are also available.  Full time employees become eligible for coverage after 60 days of continuous employment.
Retirement Savings Benefits
St. Luke Lutheran Community offers a tax-sheltered 403(b) retirement savings program for part and full-time employees. Contributions are made through pre-tax payroll deductions. St. Luke provides matching contributions after one year of service. As an employee's tenure increases, the amount of matching contributions increases as well. Employees have many investment choices and are never charged any type of service fees while employed. St. Luke's program is provided and managed by Lincoln National Life Insurance Company. Lincoln is a leader in the retirement savings industry and provides employees with investment counseling and information.
Life Insurance and Short-Term Disability Benefits
These benefits are offered to all full time employees at no cost. The life insurance provides a $15,000 basic policy and the disability provides coverage for up to 26 weeks.
Voluntary Benefit Program
We realize that employees make benefit choices based upon what is important to them and the needs of changing lifestyles. That is why St. Luke Lutheran Community provides a voluntary benefit program of which most full and part-time employees can take advantage. Additional life and disability insurance are offered. Employees have the opportunity to take advantage of group premium discounts and payroll deductions for premiums.
Flexible Spending Account (FSA)
One of the few ways to lower out-of-pocket medical expenses is through the use of flexible spending accounts. We offer this benefit to all employees at no cost. The medical FSA allows employees to deduct funds through payroll to use for a variety of medical expenses such as deductibles, co-insurance, prescription costs, and some over-the-counter drugs. All funds deposited in the FSA are exempt from federal, state and local payroll taxes.
Paid Holidays
We realize that everyone wants to be with their families during the holidays. In order to fulfill our mission, we ask that each employee work 4 holidays per year. When an employee works on a holiday, he/she earns time and a half while working. On a holiday when the employee is not required to work, he/she receives paid time off. Employees are eligible for 4 paid holidays each year.
Paid Time Off
Employees are offered a generous paid-time off program which can be used for vacation, sick leave, personal days or other days as they choose. PTO earnings increase along with an employee's tenure. The amount of earned time off depends on the number of hours an employee works.
Other Benefits
Attendance Bonus

Referral Program

Tuition Reimbursement

Continuing Education Opportunities

Employee Cafeteria