St. Luke Lutheran Community - Portage Lakes
615 Latham Lane, Akron, Ohio 44319 • (330) 644-3914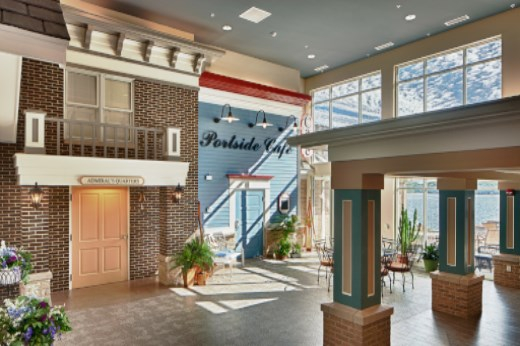 Our Portage Lakes campus is located on the tranquil shore of South Turkeyfoot Lake. It features 15 state-of-the-art assisted living suites as well as rehabilitation and skilled nursing services. Enjoy views of the lake, a sensory garden, and newly renovated therapy room.
Our rooms are larger than most and we encourage residents to decorate and make them their own. Our kitchen staff prepares breakfast to order as you rise. Enjoy lunch and supper in our dining room, your room or our solarium overlooking the lake. Our Resident Life staff provide entertainment and are more than happy to help you fish from the dock. Local residents and their families trust St. Luke because of our excellent quality of care and personalized attention.
St. Luke Lutheran Community - Portage Lakes is a not-for-profit, faith-based, rehabilitation, assisted living, skilled and long-term nursing campus.
Our Portage Lakes Campus offers:
Guidelines for acceptance and participation in St. Luke Lutheran Community's programs are the same for everyone without regard for race, color, religion, national origin, age, sex, sexual orientation, or handicap.
St. Luke Lutheran Community is a member of LeadingAge, LeadingAge Ohio, Lutheran Services in America, and Lutheran Services in America- Ohio.